The interview working on Skype allows you to hold the first meeting even if you are distant, so much so that numerous selections of personnel for work abroad are carried out in this way. It is increasingly used to carry out the first screening because it allows HR managers to save time by avoiding the personal meeting that is postponed to the second or last phase of the selection.
The advantages, for candidates and companies, are therefore linked to time and costs, significantly reduced compared to traditional selection procedures: companies reach a large number of candidates in real-time, bypassing the problem of geographical distance
Furthermore, the interview on Skype is currently the most widely used recruitment tool by companies, given the epidemiological emergency from Covid-19 and the need to respect the rules of social distancing.
Now let's try to find out how to prepare to best face it and successfully pass the first phase.
1. Username and photo
If you decide to use Skype for professional reasons, avoid usernames that are too complex to remember. Do not use nicknames or nicknames with which you usually identify yourself in private or in non-work circumstances. The ideal would be to always use name and surname (the formula "name-surname" is the most recommended), also for greater consistency with what is reported on the CV. Also pay attention to the profile photo, which is often overlooked by candidates.
Choose a photo that shows you in formal clothes, preferably with a light background. Choose high-resolution, well-lit images. Remember that the details, often considered "picky", help to make a difference and, in this case, to determine the outcome of the interview.
2. You are a director and… a sound engineer
You'll be the director of your interview, so you'll have to worry about setting up the webcam correctly and choosing the most suitable shot. It is best to do some testing in advance before your interview for a job on Skype. Try to choose a neutral background (absolutely avoid framing unmade beds, video game collections, and dirty dishes!).
A bookcase behind you would be the ideal backdrop. If you don't find the perfect angle of your home, activate the background blur found in the camera options. Also make sure your face is well in light, not backlit by lamps or windows. In this regard, also choose quiet environments to avoid inappropriate distractions. If you are unfocused, you risk not being interested in the job offer in question.
Last but not least, check the microphone and test before the conference. There is nothing worse than hearing annoying noise or reverberations.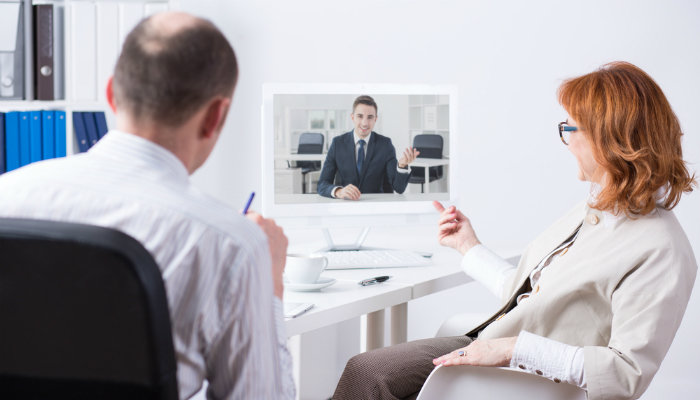 3. Dress as if it were offline
Even if you're not about to face the interview in person, it doesn't mean that you may be neglecting your image. Choose your clothing carefully and dress in full, not just the part that will appear in the video.
Go for a professional look, checking that the colors or patterns of the clothes you are wearing do not create strange optical effects on the video. Wearing formal attire will also help you to have more confidence in yourself and to better perceive the professional dimension you are in from the moment you start the conference.
4. Be on time
Punctuality is also essential remotely, as much as it would be for a normal interview or any other business appointment. Connect with about ten minutes early to be ready to receive the call and make a good impression on your interlocutor.
Notify your interviewer in good time in case of delays. Skype offers you the possibility to open a chat and immediately send a message. In this way, you show your seriousness and give a taste of the commitment you are willing to give even in any work assignment.
5. Posture and communication
Look straight into the webcam, not in the box where the interviewer appears. This will help make the interview less cold and more like a traditional one. It will be easier to try to empathize and be interesting.
Take a composed but not rigid posture. Don't gesticulate too much. If you do not feel confident or if you are not used to using this tool, do some tests with a friend, so you will face the appointment with more confidence and confidence. Rewards having a smiling expression.
6. Finish the interview well
The rules to best face a job interview on Skype are identical to those of a traditional interview but in this case, it is even more important to pay close attention to greetings, not only at the beginning but also at the end of the conversation.
Bear in mind that you won't be able to shake hands with the recruiter, so you'll have to find a way to be professional during remotely opening and closing greetings. It is very easy to run into inappropriate behavior due to the lower perception of professionalism typical of the physical context.
Finally, discreetly ask for feedback concerning the timing of the company to evaluate the interview and learn about the next steps. Express your impression of the interview and the position you are applying for or if you need to reflect on something that emerged from the interview, ask for some time (a couple of days, not more) to express your opinion on your interest in the proceeding.